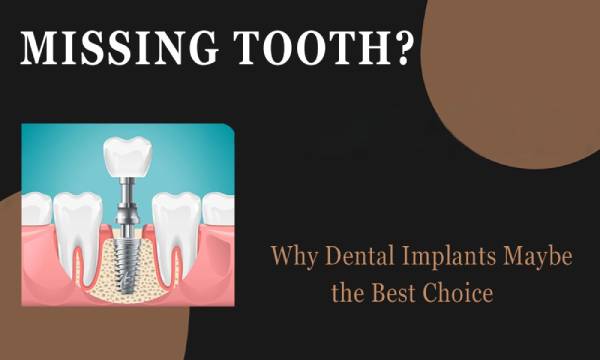 Dental implants may not be the only option for missing teeth, but they have significant benefits over traditional methods. Let us first know what dental implants are.
What Are Dental Implants?
Dental implants consist of zirconium, titanium or ceramic screw. The screw is inserted into the jaw, serving as a replacement for the root of the missing tooth. The bone situated around this region gradually fuses to the implant, thus holding it securely in place. This implant (in the jaw bone ) or abutment (tooth-like structure above the gums ) provides the structure to which a false tooth (a crown or implant-supported bridge) can be fitted.
What are the Benefits of Dental Implants
Dental implants appear just like natural teeth

A major benefit of a dental implant is that the result looks completely natural and you will not be able to distinguish it from your natural teeth without any damage to the adjacent tooth structure.

Dental implants feel like natural teeth

Since dental implants function and feel just like your natural tooth, you can forget that you have an implant in your mouth. Caring for your implant does not involve any elaborate or special procedures and is just like how you would manage your natural teeth. It is necessary to brush twice a day, but it won't involve applying adhesives or soaking them in a glass overnight. The best part is the implant will probably never need a filling.

They are durable

Dental implants have shown great results because they function as part of your jawbone and they last a lifetime. However, you need to maintain the oral hygiene process prescribed by your dentist.

Implants are cost-effective as they are a lifetime investment

Though implants may seem expensive initially, we need to consider them as a one-time investment, considering the long time survival you will find the cost involved is lower than other treatments

Implants improve function and aesthetics.

With dental implants, you can eat, speak and smile confidently. You can eat and chew any food you want!

Implants prevent bone loss

Loss of teeth results in bone loss. Dental Implants help maintain the bone dimensions by replacing the missing tooth and maintaining its function.

Implants do not affect the other teeth

Replacement of missing teeth with traditional methods usually tends to weaken the adjacent teeth, causing cavities compared to dental implants.

Dental implants can be used to replace multiple teeth

If your teeth are missing or have to be extracted, the gaps thus created lead to malpositioning of other teeth and loss of bone, which leads to poor aesthetics and function.

Implants can be used to replace these missing teeth by; providing support to removable dentures ( complete or partial ); or fixed implant crowns.

Implants enhance your Self-esteem

Loss of teeth can be a cause of low self-esteem due to which people avoid being social. The lost tooth can be replaced either by Implants, bridges or dentures. A dental implant is the best option as bridges and dentures have their limitations. With a dental implant, you can get a tooth that appears and feels completely natural. The smile is restored, and so is your ability to talk and eat normally. Also, a point to consider is that bone loss can change the facial structure over time. This tends to create ageing prematurely.

Implants at Confident Dental Care is a Tried & Tested Procedure

At The Confident Dental Care, we have installed over 12500 dental implants successfully; in our various centres. Implants are a common procedure proven to deliver long-term results and benefits.
Other Treatments for Missing Tooth
Other treatments for missing teeth that you need to know about are below.
Partial Denture
A partial denture has a low rate of success, lasting about 4-5 years only. They consist of a removable acrylic or metal frame holding one or more artificial teeth.
Resin retained Dental Bridge
This treatment involves fixing a false tooth or a pontic that is held in place by the abutment teeth on either side of the gap.
The success rate with this treatment is quite high and can last for around 4-5 years in most cases. But a disadvantage of this option is that in some cases the metal that holds the artificial tooth in place is visible through the teeth.
Conventional bridge
A conventional bridge is a fixed false tooth, usually more expensive than a resin retained bridge because it takes more time. It is held in place by cutting the adjacent teeth. Even though this option has a high success rate and is a longer-term solution than the other treatments, one disadvantage to consider is that it can lead to damage to the adjacent teeth. In some cases, the nerve of the teeth can weaken and if the bridge fails due to some reason, it can affect the health of other teeth.