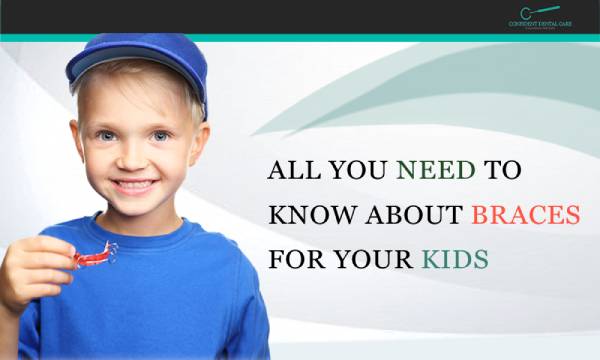 Nowadays, a lot of children get braces. We see that kids today are quite excited to get braces. Most kids we speak to seem to view braces as a signal to their entry into teenage. But we know that as a parent, you have a lot of questions about braces. Since our patients have asked these questions repeatedly, we decided to write an article addressing all your concerns. We have also given answers to a few frequently asked questions at the end of the blog. If you think we have missed out on any, let us know. We'll be happy to add them.
We have tried to address all the concerns about braces, including how to know if your child needs them.
Does My Child Need Braces?
Braces have become a common treatment today. Did you know that factors such as the increase in sugary diets and lack of fluoride have led to the growing demand for braces?
As a parent, you must know that children need braces for lots of different reasons. It may include overcrowding, overbites, and underbites.
Below are a few reasons your child might need to see an orthodontist:
Has trouble biting or chewing food
Mouth breathing
Overcrowded teeth
Jaws that shift, protrude, or recede
Disproportionate jaw
Thumb sucking
Overbite or Crossbite
An orthodontist is a specialized dentist who specializes in correcting these problems. The orthodontist will examine the issue and decide whether your child needs braces.
Usually, children get their braces during their preteen or teenage years, but it is important to know that some doctors recommend that a child visit an orthodontist around age seven. Certain issues such as overcrowding can be identified by the orthodontist at this age. The orthodontist will then be able to monitor the issues and start the treatment early if needed.
What's the Right Age for Children to Commence Orthodontic Treatment?
There is no fixed age for starting orthodontic treatment. Orthodontists examine the child's issues and then plan the treatment protocol based on the condition. Usually, children between the ages of 10 and 13 can get braces, because the child will have permanent teeth by this age.
Orthodontists recommend children to be evaluated as early as age seven, the treatment does not commence until the age of 12. At 12, most children would have lost all baby teeth.
If your child's orthodontist can identify the issue during early screening, they can usually perform an interceptive action such as a palatal expander that can ensure that permanent teeth begin to emerge in the right position.
What Are Our Options?
You might be a parent who has realized recently that your child needs braces and are trying to search Google for the best options available.
Below are a few options of braces for your kids
Traditional metal braces: These braces, as you know, are the most common option for kids. They have steel ties that hold the brackets in place. Most of our teenagers whom we have seen over the years choose color bands to personalize their braces.
Clear Aligners: They are clear aligners that can be removed and worn back. It has gained a lot of popularity in recent years.
Maintenance
It is important to remember that once your child gets braces, they need to take good care of them. If adequate and right care is not taken during the treatment, it could lead to cavities and frequent repair can increase the cost of treatment. As a parent, you must carefully monitor the dental hygiene that your child follows. Also, do not miss regular professional cleanings suggested by your orthodontist.
Frequently Asked Questions
What is the Right Age for Kids to Start Orthodontic Treatment?
It is recommended, that your kids visit an orthodontist when they are seven. The orthodontist can evaluate to check whether they need braces. It is important to note that people who get the orthodontic treatment done during childhood, have had significantly better results than those who had it during adulthood.
Are Orthodontic treatments Painful for Kids?
Orthodontic treatments may cause a bit of pressure, but they are not painful.
How Many Years Does Orthodontic Treatment Last?
The treatment usually lasts for 1.5 years to 2 years. At times, your kid may have to wear braces for a little longer. Your orthodontist will be able to give you the correct timeframe for the treatment.
My kid has just got braces. What Can She Eat or not Eat on the First Day?
It is best to give your child soft food such as soup, curds, pasta, rice, bread on the first day. It gets better after that.
Can Orthodontic treatment Help Restore My Child's Jawline?
Orthodontic treatment helps improve the jawline by making your child's face more symmetrical.
How Will Orthodontic Treatment Change My Child's Face?
Orthodontic treatments can bring about positive changes in your child's face as they help fix alignment issues.
For more such tips and information, follow us on
https://www.instagram.com/confidentdentalcare.in/
You can also call on 9483523368 to book an appointment.